Boys will race the roads on Reaction's Speedy Graffiti 16" bike. It's a single-speed bike with all steel components for durability. It features easily removable alloy training wheels, and simple to use coaster (pedal style) brakes. It also has a comfortable saddle and hand grips. With Reaction's reputation of reliability and durability it's perfect for a beginner rider ages 4-6. All shipping costs are included.
Spotlight Values
LT3 Tire 26"x2.0" (Bontrager)

$29.99

Smooth and easy rolling center section, the modern successor to the Connection/Connection Trail...
Other Featured Products
Have a BikeShop.com gift card?
Enter the code on the card below to assign its value to your cart and begin shopping an expanded catalog of our quality cycling products.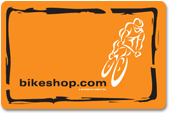 To view your account balance and add multiple gift cards, please click here.

If you are participating in the Health by Design program, please click here.